The origin, quality and taste experience of healthy, pure mineral water is becoming an increasing priority for many people. It is therefore important that catering staff know where the water they serve to their guests comes from and what it tastes like. Today, water is trendy and you can go in many directions with natural mineral water. More and more restaurants even have a water chart or water advice from the sommelier. Three water sommeliers give you some insider tips for serving Pineo mineral water perfectly.

"Every restaurant should have at least 3 waters on its menu. Let eating out be an experience! We are used to wine lists having different price categories from all kinds of regions and with different flavour notes. It's time to do the same with water. The water menu should be equally varied." – Water sommelier Roland Vanden Abbeele
Serving water starts with mineral water in glass: the right glass in the right place
Anyway, always provide a water glass for your guests, which according to etiquette should be on the left. The classic water glass is larger than the red wine glass, but if you like things a little looser, you can also opt for accent water glasses, which add extra sophistication to your table. Flat or still water can basically be served in any glass. Lightly sparkling water should be served in a balloon glass. Serving sparkling water in a champagne or tulip-shaped glass keeps the carbon dioxide in the water longer.
Pineo natural mineral water should preferably be served in an authentic Pineo glass, in which both Pineo Natural and Pineo Intens come into their own.
The purity of the glass is crucial: many people smell (or even taste) the detergent the glass has been washed with. So wash the glasses not with soap, but with hot or steaming water and let cool. Even better is to wash them with demineralised water.
How do you serve water, Pineo water?
Store Pineo natural mineral water in a dark, cool and well-ventilated room.
Before putting the beautiful designer bottle on the table, check the bottle for any damage or missing label. Etiquette rule: put water on the table first and remove it from the table last.
Open the bottle in front of your guests and point the label at your guests.
Fill the glasses between 1/3 and 2/3 with water.
Do not add ice cubes or lemon. These can disrupt the balanced flavour of Pineo.
Choose the right size bottle. From the moment the bottle is opened, water loses its delicate purity.
"Water is like wine, its sources and minerals determine its taste. If the water is high in calcium, it tastes sweet and chalky. If it is rich in magnesium; metallic. If it contains sodium; salty. It is essential to know that the taste of the water can interfere with the taste of the wine. For example, if you select a bottle of very elegant and smooth red wine, but pair it with water with high carbonation, it could be a disaster." – Water sommelier John Zhu
Pineo and the best wines you serve together
Not many types of water harmonise so well with wine and a very diverse range of dishes as Pineo. Pineo's smooth, light, fresh and balanced taste is unique and due to its authentic terroir and history. Pineo has a 'Natural' water with a mild alkaline taste (pH 8) and a strong effervescent 'Intense' water with a pH of 4.
Pineo Natural ideally matches soft wines with low alcohol content. Fresh and fruity white wines, young reds, sparkling wines and low-sugar aperitif drinks. Flat water does not over-stimulate the taste buds and is therefore also ideal with coffee or desserts.
Pineo Intens pairs excellently with powerful, round wines. Dry or sweet powerful white or red wines, vintage champagnes, white wines as an aperitif or sweet aperitif drinks. Sparkling water is perfect as an appetiser or aperitif and goes well with crispy dishes such as tempura. Drink it also to cleanse the palate after eating cheese or chocolate.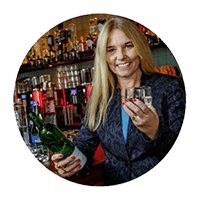 During dinner, flavours usually get stronger and stronger, both from the food (from fish, vegetables to meat), and from the wine (from crisp white to deep red). Which type of water is best to drink with which dish? Simply remember this: the stronger the flavour of your food, the smaller the bubble in your mineral water. Watersommelier Mariëlle Thiadens from De Waterproeverij
What do you tell your guests about Pineo mineral water?
Pineo is a natural mineral water, which springs spontaneously from the depths of the Beneidó Massif in the Spanish Pyrenees. This pure, wild mountain water is extracted and bottled directly – well above the industrial boundary – at the source, free from any processing, additives or flavour deviations. Pineo is a soft alkaline water with a mild, velvety taste. This already triple award-winning water, is available in varieties: flat (Natural) and strong (Intense).
Want to make drinking Pineo on your terrace a real party? Click HERE for inspiration.